On May 14, Savills and China Construction Third Engineering Bureau (CCTEB) Investment jointly held a forum on "Wuhan Eco-city Construction" in the Architectural Museum of China Construction Science and Technology Industrial Park in East Lake High-tech Zone, Wuhan. At the event, BRE and Savills signed a strategic agreement.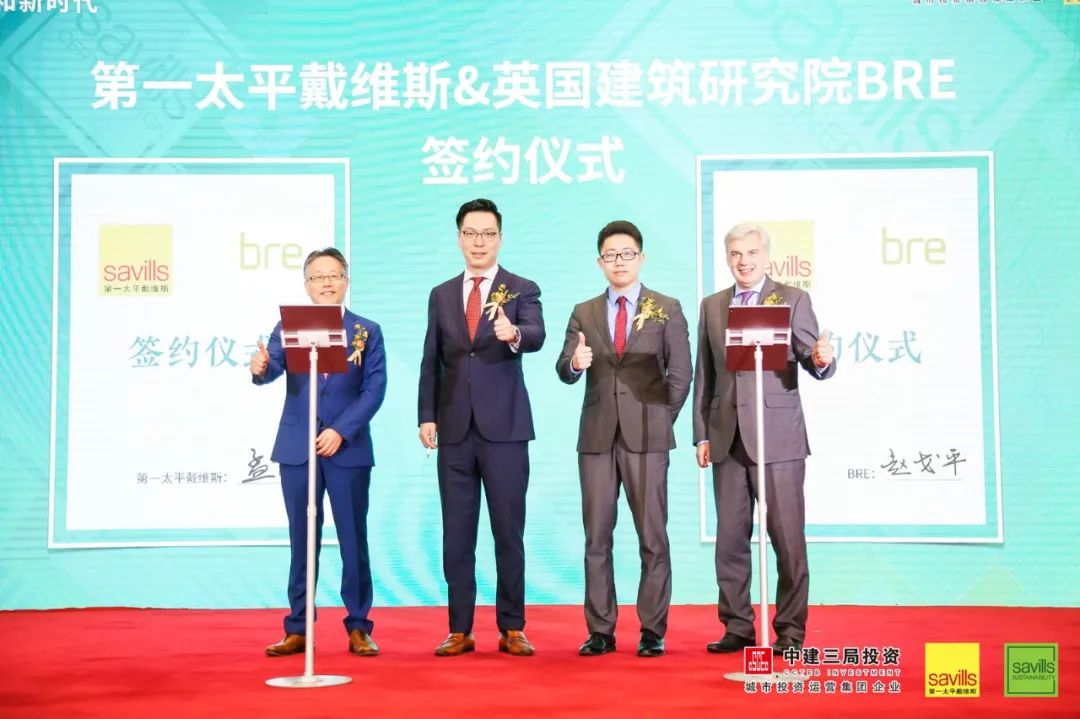 From left to right: Zhang Fudong, Deputy Secretary for Investment Promotion Bureau of Wuhan East Lake New Technology Development Zone; Meng Zhe, Head and Senior Director of Property and Asset Management, Savills China; Zhao Geping, Business Lead of BRE China; Gareth Hoar, Consul General of British Consulate in Wuhan.
The purpose of this in-depth cooperation between Savills and BRE China is to promote the development of BREEAM schemes in China, as well as in Britain and around the world to become benchmarks of key performance and best practices, to be committed to improving the built environment, assisting the government and enterprise clients in the delivery of housing, construction, and community to successfully cope with environmental, social and economic challenges.
The strategic collaboration between BRE China and Savills will focus on the following areas:
#01 Training
BREEAM NC and BREEAM In-Use Scheme training and promotion – BRE China will provide Savills China with BREEAM training services and AP Professional and Assessor Exams, to establish the technical service capability of Savills China in the field of BREEAM certification and expand the business market; In the future, both parties will work together to build Savills as a BREEAM training partner for BRE in China, carry out joint curriculum development, promote professional training programs and become benchmarks for key performance and best practices in the UK and globally.
#02 Benchmark Project Landing
Savills will introduce and recommend BREEAM certification to customers nationwide, pilot the BREEAM In-Use certification project, and subsequently build it into a landing project case for the reference of customers, and comprehensively promote the best practice of BREEAM.
#03 Client Resource Sharing
Savills and BRE will work together on client resource connection and key client referrals. Combined with the above-mentioned campaign planning and marketing promotion, joint referrals to key clients will be carried out each year.
#04 Industry Seminars
Savills and BRE China will cooperate in 1-2 industry seminars each year, focusing on the field of green and sustainable development, including low-carbon energy, green finance, asset operation management and other sectors.
The strategic cooperation between the two British companies in China is undertaken in the context of the global cooperation strategy of both parties, representing British companies to work together to empower China's built environment, assisting government and corporate customers, and successfully coping with the environmental, social and economic challenges.
Gary Zhao
China Business Lead of BRE China